Shattered glass is decidedly bad for business. It's just as detrimental for the safety of your home, possessions and family.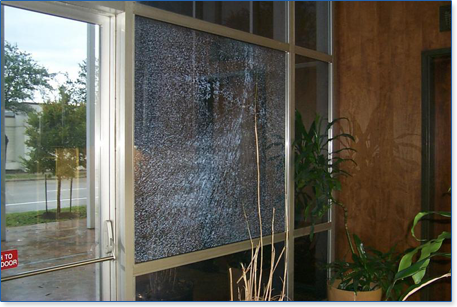 Fortify Your Windows
Safety and security films are designed to give your windows a strengthening boost by holding the glass together if it were to break for any reason. Intruders. Foul weather. Even a wayward baseball could be to blame.
Instead of shattering into pieces, windows fortified with safety and security films have a protective film that keeps the broken glass from flying all over. Add an even greater level of security by including an anchoring system with the security film, which bonds the film to the window framing system and prevents the glass from leaving the frame. Here your windows can become strong enough to withstand even the hardest hits from things like hurricanes, bomb blasts (yes, you read that right!) or intruders who would simply crawl through an empty window frame.
Layer Your Windows With Safety And Sun Control
One more option is to combine safety and security with a dose of sun control. The most popular solar control films are available in versions that double as safety and security films, giving you two layers of protection in a single product. Our safety and security films of choice are Armorcoat by Saint Gobain, one of the most trusted names in all types of professional window coatings. Fortify your home or business today with an Armorcoat installation from Sun Blox.
Our coverage area extends to Phoenix and surrounding areas throughout Arizona. Give Sun Blox a call for a free estimate. (602) 228-9258