One of the Arizona myths says you need an oven mitt to open your car door from the outside in the summer.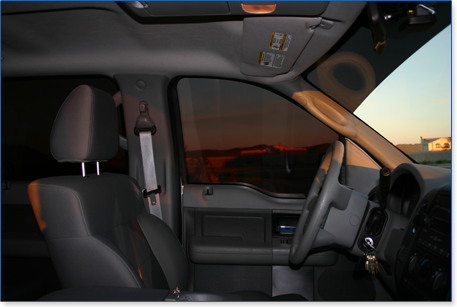 Your Car Doesn't Have To Be An Oven
That myth is not too far off, but it doesn't even touch on what the inside of your vehicle can feel like. The sun's rays heat up the car like an oven, with each interior item absorbing and then radiating heat. Turn down the heat and pump up the benefits with professional automotive window tints from Sun Blox
Our automotive window tinting comes with a lifetime warranty, and that's just one of the many benefits. We stringently follow state regulations regarding automotive window tinting, and can even install a clear windshield protectant that keeps out harmful rays without dimming or obstructing the view. Tinted windows in the rear and sides of the vehicle can help protect passengers as well as belongings.
Keep Your Car Looking Good!
Our service area extends to Phoenix and surrounding areas, with installations available for cars, trucks, RVs or any other vehicle that deserves a cool and comfortable interior. One more option is a clear paint protectant we apply to the leading edge of your car, RV or boat to protect against wear, tear and debris.
Our coverage area extends to Phoenix and surrounding areas throughout Arizona. If you enjoy traveling in comfort all year long, give Sun Blox a call for a free estimate. (602) 228-9258