Sick of graffiti ruining the exterior of your home or storefront windows? With Graffitgard Film, that's a thing of the past.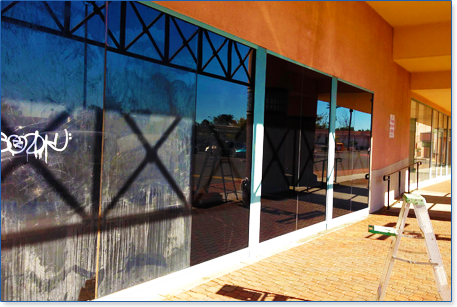 It's Not Just Protection From Graffiti
This clear film acts as a barrier between unsightly graffiti and your home or business windows. When yet another freelance artist decides to use your glass as a canvas, all we need to do to remove it is peel off the protective film.
As part of the Surface Protection Solar Gard line of product by Saint Gobain, Graffitigard Film is one of the top products in the protective coating industry. It's also incredibly affordable compared to replacing the glass itself. We simply apply the film to a clean surface before it's marred by vandalism. Once vandals do their thing, we just simply peel off the film and replace it with a fresh protective coating. Graffitgard Film saves you tons of time, money and effort!
Give Your Windows A Protective Coat
In addition to exterior windows, Graffitgard can be applied to interior surfaces and delicate materials. It works on all types of glass and mirrors. Instantly free your home or business from unsightly graffiti with a Graffitigard Film installation from Sun Blox.
Our coverage area extends to Phoenix and surrounding areas throughout Arizona. Give Sun Blox a call for a free estimate. (602) 228-9258